Whenever we get to play, Canes Baseball is going to put another team full of some of the best players from all across the country on the field.
In these difficult times with the COVID-19 pandemic affecting lives across the world, we certainly put a premium on the health and safety of everyone, including the players who have chosen to be a part of the Canes as well as their families. We want everyone to stay safe but we look forward to being able to play baseball again as soon as responsibly possible.
When we do get to take the field, we have a roster of 30 players who look to add to our trophy case. Three national championship trophies were raised in 2019 by our 17U team, including the World Wood Bat Association title in Emerson, Ga. and the Perfect Game World Series title in Scottsdale, Ariz.
Some incredible hitters have put on the Canes jerseys in the past, and there are a dozen players on the roster who will see most of their action primarily in the lineup this coming summer.
One of the players from farthest away from our Fredricksburg, Va. home base is infielder Cody Schrier, who hails from San Clemente, Calif. and plays for Jserra Catholic High School. Schrier is in his first year with the Canes and is committed to Southern California.
"I wanted to join Canes because of the past and present success they have had. When you hear the Canes you know exactly who it is and how legit they are," Schrier said. "This summer I am most looking forward to meeting new friends and making brothers for life. I am really excited to get to learn from the best in the country and play alongside them."
Outfielder Daylen Lile is back for his second season with the Canes and he's looking to build on some already very good memories in a very short time. A Louisville, Ky. native, Lile is committed to stay in his hometown and play for the Cardinals. There are moments that stand out both on the field and off of the field, including the time Canes assistant coach and former MLB outfielder Jayson Werth got the 16U team on-field passes to watch batting practice at a Braves versus Phillies game.
"We got to meet Jay Bruce and Bryce Harper, which was really cool. Seeing them from off camera to real life was a pretty cool experience. We got to see the players lounge, locker room, training room and watching how the big leaguers get ready before a game," Lile recounted. "I'll always remember playing in the World Championships in the Fall at Jet Blue Stadium. We went to extra innings with the Scorpions and I was on third and scored the winning run. Winning with the Canes, with my teammates, was an awesome experience."
Infielder Kurtis Reid is another Louisville commitment and he is in his first full year with the Canes after playing on the Prospects team last Fall. Reid, from Hamilton, Ohio, says his primary reason for joining the team is to compete at the highest level.
"I chose the Canes because they are ahead of everyone in talent and competition level, and that's what I want to do is play with the best and against the best," Reid said. "I want to do everything I can to be noticed by all scouts from collegiate level to the pros and I believe playing for the Canes will definitely give me that opportunity and push me to be a better baseball player. Baseball is something I've dreamed at playing at the next level and Canes baseball will definitely get me in the right position to do that."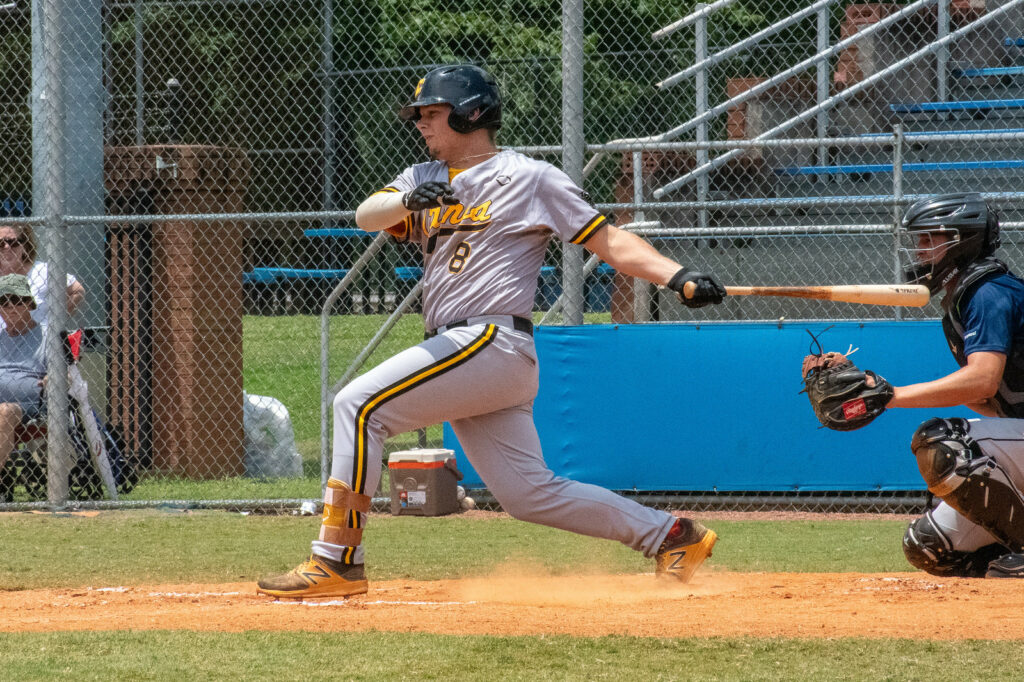 One of our veterans on the squad is catcher Cole Messina, a South Carolina commitment, who is entering his fifth year with the Canes. A Summerville, S.C. native, Messina has championships from the 14U level to the 17U level after playing up for the bulk of the summer in 2019.
"I have grown on and off the field thanks to the incredible leadership the Canes coaching staff has provided over the years," Messina said. "This organization has put myself and all my teammates over the years in highest level situations to prepare us for the future. I have learned how to handle failure and success. I feel like I am really prepared for my future of playing SEC baseball at a high level thanks to Coach Petty and his staff. Thank you, Coach!"
Another veteran is infielder Payton Green, who joined the Canes program at the 14U level and has been with us ever since. Green is a Cary, N.C. native who will play his college ball just down the road from his home for N.C. State.
"I am looking forward to competing for a spot in the line up and playing and winning as many tournaments as we can throughout the year," Green said. "The Canes have helped me so much throughout from getting great coaching from leading how to be a great player and how to deal with challenges as a player."
Class of 2022 outfielder Ryan Clifford is back with the Canes for his fourth year and he saw significant action with the 17U National Team a year ago as well. Clifford, currently uncommitted out of Raleigh, N.C. and Leesville Road High School, is ready to tackle some of the big tournaments with both old and new teammates.
"I'm looking forward to a little of everything, like seeing some guys I've played with before, getting back to the grind and being surrounded by great coaches and players," Clifford said. "Going to Jupiter and getting to compete with guys who strived to win. It was great facing good teams and dogging it out with my guys by my side. I've had lots of great memories with the Canes but this sticks out."
Infielder Alex Mooney, a Duke commitment out of Rochester Hills, Mich., is in his third year with the Canes. He has one Perfect Game World Championship under his belt and the tournament he's looking forward to the most this summer would get him another.
"My most memorable moment was winning the fall WWBA World Championship. This is my favorite because the group that we had really bonded well and we had a lot of fun that weekend," Mooney said. "This summer I'm really looking forward to the WWBA. The team this year has a lot of talent so the scouts will be everywhere to watch us play. Also, the other teams know who the Canes are and it's always fun to face someone else's ace."
Messina will certainly have some help behind the plate as catcher Rene Lastres, from Hialeah Gardens, Fla. will be with him to form a formidable one-two punch. Lastres, a Florida commitment, is in his first year with the Canes.
"I first started noticing the Canes in some tournaments I attended and also my friends and social media," Lastres said. "What really made me want to play with the Canes has to be that it's a really professional program and also while watching them play, it really stood out for me was how competitive of a team they are. It was like a family everyone coming together. They all had each other's back and that's how every team should be, so I right away knew that I wanted to be part of that."
Outfielder Melenik Israel, better known as "Izzy" around the field, is one of a trio of Duke commitments on the roster. A Murrieta, Calif. native and Norco High School product, Israel is in his second year with the Canes organization.
"Canes baseball really prepared me for my high school season and what I have noticed the most was being with the Canes made me more mature as a person and as a player," Israel said. "What I'm looking forward to this summer is seeing my friends, my coaches, and competing at a high level with them. Last year, being with the Canes made my year and it was one of the best baseball experiences I have ever had."
Saborn Campbell could see action at multiple spots on the diamond for us this summer as he can play the middle infield or in the outfield. Entering his second year with the Canes, the Stanford commitment from Bloomfield Hills, Mich. looks to put championship ring on his finger.
"I am looking forward to winning a national championship with the Canes, I really love winning and that would be awesome to win," Campbell said. "The Canes have given me the tools and coaching which is propelled my game in all aspects, which I thank them for. The coaching with outfield base running hitting has all been beneficial for me.
Outfielder Reece Holbook, hailing from Columbia, S.C., is in his first full year with the Canes but did play some in the fall. A North Carolina commitment and son of College of Charleston head baseball coach Chad Holbrook, Reece brings a bunch of speed and the ability to handle the bat to our lineup.
"I can't wait to play in the most prestigious events and compete to win championships with such a talented group of players. It's going to be awesome to play in front of the large crowds in the prime time games with all the scouts watching," Holbrook said. "The best part is facing the pitching we will face. Everyone will throw their best pitchers to try and take us down and that will be fun to compete against while preparing all of us for the next level. I can't wait to play with this group of players and continue a history of championships for this organization!"
Rounding out the primary position players is outfielder Malaki Knight, who comes to us from the farthest corner of the country, Marysville, Wash. Knight, an Oregon State commitment from Archbishop Murphy School, is in his first year with the Canes.
"I'm excited to meet new teammates. Also, I am looking forward to playing against some of the best competition in the country and competing to my best ability," Knight said. "The Canes are always playing against the best competition and are one of the best travel teams in the country. I am excited to push myself and get better while playing with them."
There are a couple of other players on the roster who are going to see a bunch of innings on the mound, but will also receive action in the field as well. Left-handed pitcher and first baseman/outfielder Nick McLain will see time in the lineup and so will right-handed pitcher and corner infielder Gage Ziehl.
Again, Canes Baseball wants you all to stay safe and healthy as the world fights COVID-19. But we look forward to getting on the field as soon as responsibly possible